Events for March 19, 2023
Day Navigation
Ongoing
MEDIA USED FOR JUSTICE, EQUITY & RESPECT (M.U.J.E.R.) Media Used for Justice Equity and Respect (M.U.J.E.R.) is a program that brings a unique opportunity for youth ages 17 up to young adults of 32 years to learn about independent media production, how to share personal stories, develop strategic messaging and work on script writing, video editing,
Find out more »
10:00 am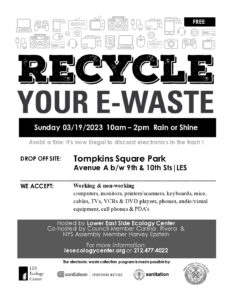 Avoid a fine: it's now illegal to discard electronics in the trash! Recycle your e-waste at Tompkins Square Park on March 19th from 10am - 2pm.
Find out more »
1:00 pm
Join the Ramapough-Munsee Lenape Indigenous Nation on March 19th from 1 - 3pm, as they welcome and usher in the spring with inter-tribal prayer, drums, and dance.
Find out more »
+ Export Day's Events