Events for March 11, 2023
Day Navigation
Ongoing
MEDIA USED FOR JUSTICE, EQUITY & RESPECT (M.U.J.E.R.) Media Used for Justice Equity and Respect (M.U.J.E.R.) is a program that brings a unique opportunity for youth ages 17 up to young adults of 32 years to learn about independent media production, how to share personal stories, develop strategic messaging and work on script writing, video editing,
Find out more »
12:00 pm
Through a series of videos, installations, documents, and sculptures, Afro-Cuban artist Javier Castro's solo exhibition Open Wounds questions the broken promises of a postcolonial world. While many of the practices at the center of the work on view draw directly from the artist's experiences with the island, the larger exhibition interrogates methods of manipulation embedded within prevalent social structures,
Find out more »
5:00 pm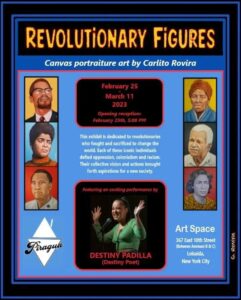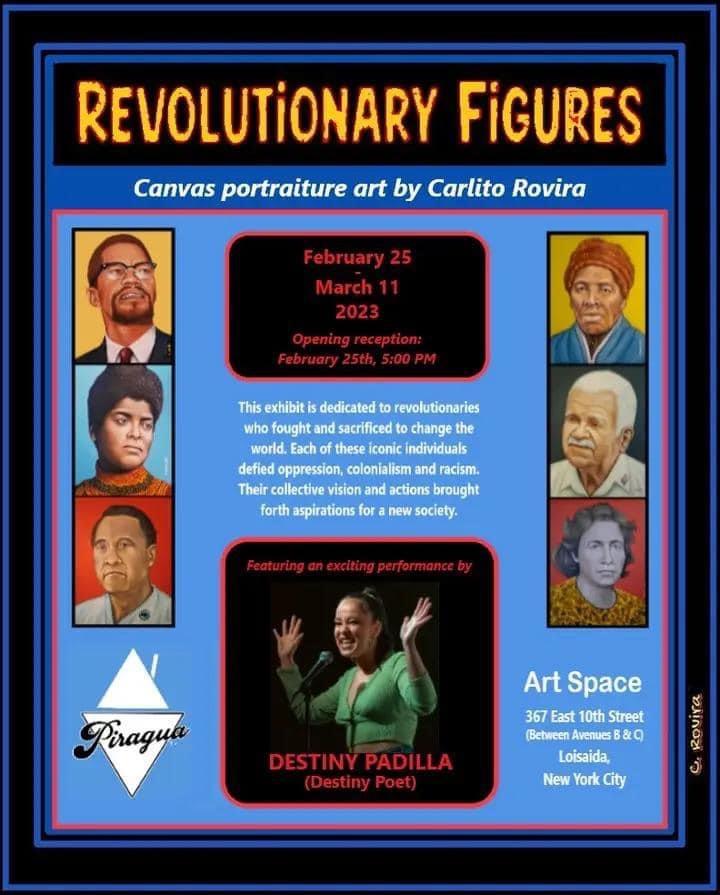 Revolutionary Figures is dedicated to revolutionaries who fought and sacrificed to change the world. Each of these iconic individuals deified oppression, colonialism, and racism. Their collective vision and actions brought forth aspirations for a new society. On view at Piragua Art Space from February 25th - March 11th.
Find out more »
+ Export Day's Events