The Poetics of Live Writing / Escritura-Acto
February 16, 2016 @ 6:30 pm

-

9:30 pm

Free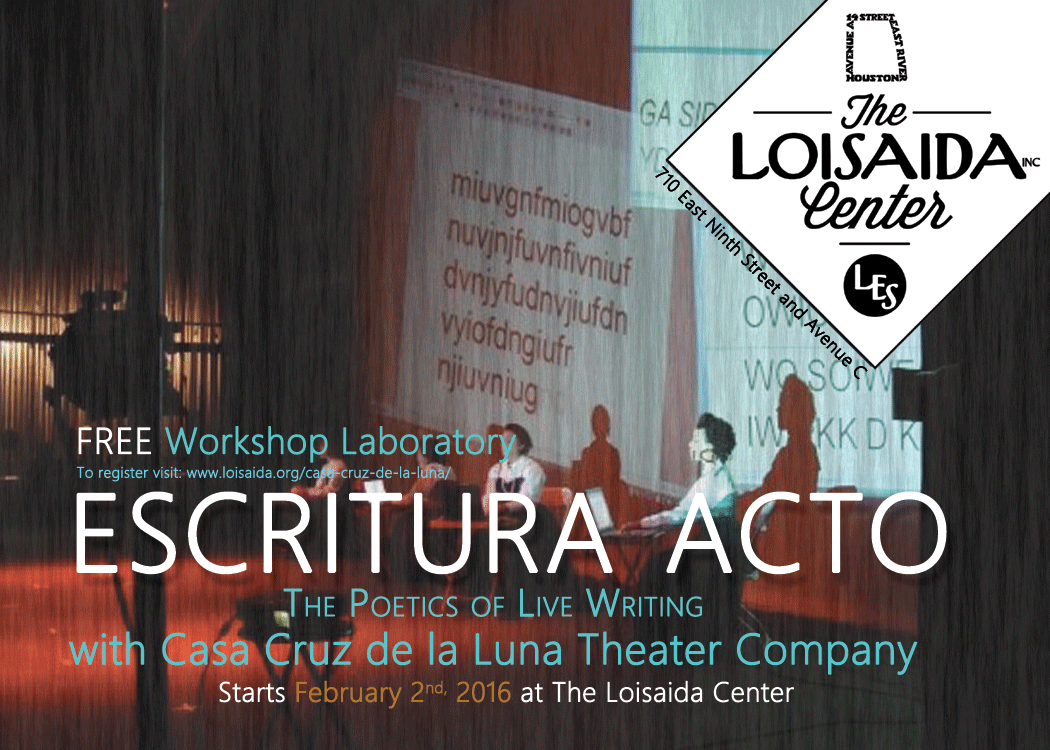 ---
---
Escritura Acto/The Poetics of Live Writing
with Casa Cruz de la Luna Theater Company
Focusing on "escritura acto"-or the act of live computerized writing projected onstage- this workshop will develop  a consciousness of the performer as another medium (medio, mediumnidad) interacting physically and energetically with other mediums (actors, spectators, objects, apparatuses, locations, programs) in performance.  Exercises will explore the different mechanisms for generating tension through escritura acto, such as:  disjunction (writing one content while speaking another); precognition (playing with expectations on how words and sentences are going to be completed): body kinetic responses to the writing as it is being produced; and the movement of texts through translation / dictation / reading /copying chains. The lab process will culminate in a presentation open to the public on the last day of class.

Requisites:
-18 years and older (we will also have a workshop for younger participants, stay tuned)
-Participants should be able to attend the 6 sessions since the work is cumulative and leading to a final performance.
-Participants will be asked to memorize short texts as assignments.
-Especially useful for theatre makers; performance, visual and sound artists; writers; students focused on literature and/or the performing arts; and people interested in transmedia narratives
Facilitator:  Aravind E. Adyanthaya
This workshop is free, but space is limited!
---
Company Profile:
English: Casa Cruz de la Luna. Originally based in an old house in the historical district of the town of San Germán in the Southwest of Puerto Rico, Casa Cruz de la Luna, has as its mission the continuous study of the limits of the theatrical experience. Founded in 1998 by Aravind Enrique Adyanthaya, the group has engaged in experimental stagings of classical works by Jorge Luis Borges, Cervantes, García Lorca, Oscar Wilde and  Maeterlinck, as well as the development of new plays by Puerto Rican authors such as José "Pepe" Liboy, Mayra Santos Febres, Carlos Canales, Jaime Carrero, Fátima Santana, Lina Nieves Avilés and Manuel Ramos Otero.
Since 2012,  the company has begun to establish a second home-base in New York City, collaborating in joint projects with  New York Theatre Workshop, Theatre for the New City, The Organization of Puerto Rican Artists (OP Art), LA TEA at the Clemente Soto Vélez Center, Pregones/PRTT and now The Loisaida Inc.Center.
Website: Click here.
Spanish: CASA CRUZ DE LA LUNA se fundó en 1997 con la visión de proveer un ámbito de movimiento para las artes y las humanidades en el área suroeste de la Isla. En el 1998 empieza a funcionar desde su base en la Calle Luna, Esquina de la Cruz en el distrito histórico del pueblo de San Germán. Su actividad se ha extendido desde actividades educativas y de presentación hasta la creación de una compañía profesional de teatro experimental. Desde el 1999, la Casa ha crecido como foro donde discursos sobre arte, sociedad y teoría se materializan a través de conferencias, exposiciones, talleres, proyectos de investigación y puestas escénicas. La inauguración de la Casa como galería (1999), la organización de la Biblioteca Marcos A. Ramírez (2001-3) y la participación de la compañía de teatro en giras y proyectos internacionales (desde el 2000) han servido de puntales para nuestra labores presentes y aspiraciones futuras.
---
For more information contact (646) 757-0522,
email info@loisaida.org, or visit 

loisaida.org

.
Follow The Loisaida Inc. Center on 

Facebook

 and 

Twitter
---