2023 Fiesta de Cruz en Loisaida
May 5 @ 7:00 pm

-

10:00 pm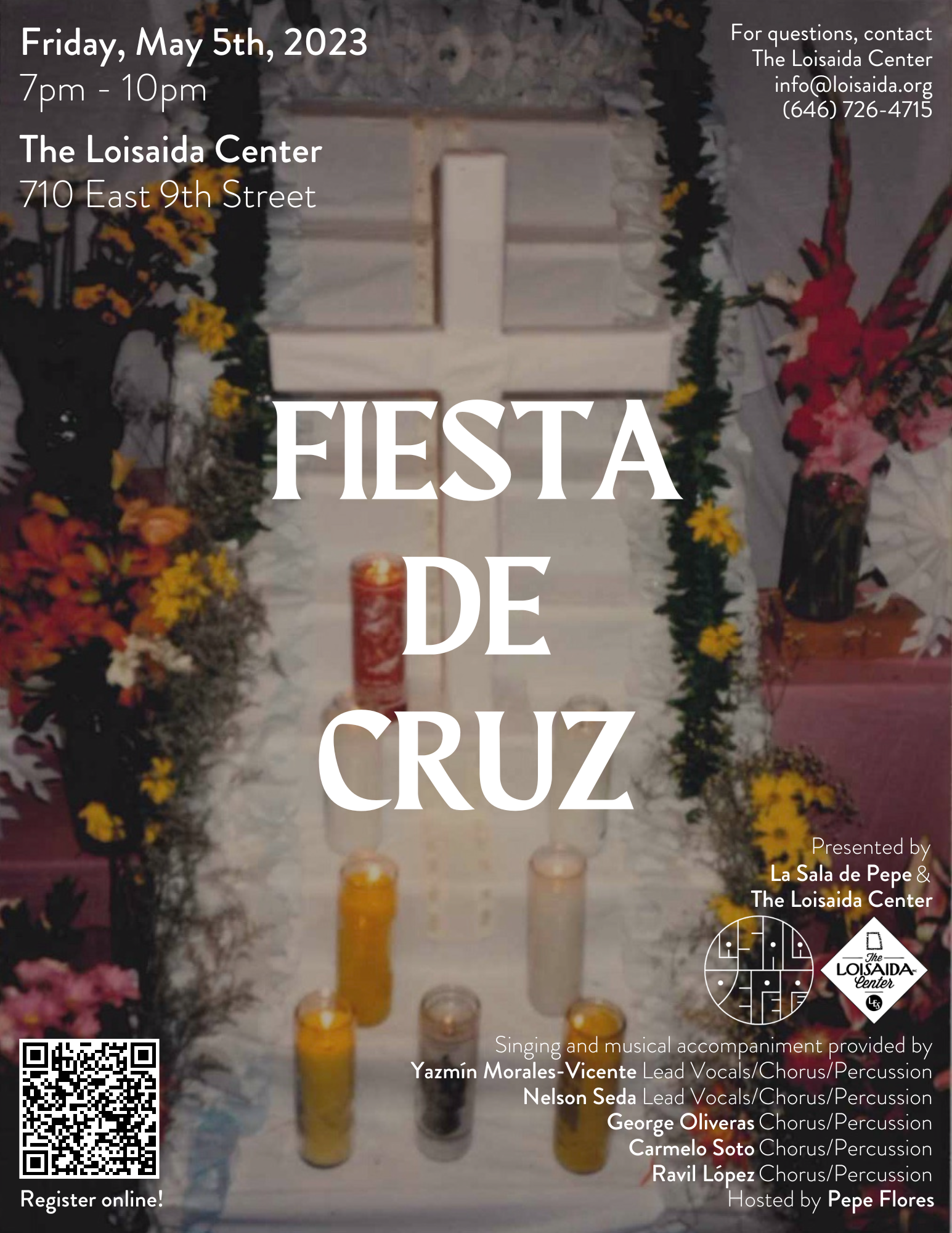 ¡Unamos nuestras voces por la Fiesta de Cruz en Loisaida, 2023! 
Las Fiestas de Cruz son una celebración devocional donde la Santísima Cruz es glorificada a través de canciones tradicionales de la religión católica que datan de la Edad Media y han sido celosamente conservadas por la sencilla devoción de sus fieles devotos caribeños.
En su forma tradicional, Las Fiestas de Cruz se celebran durante nueve noches consecutivas, en la cual la Cruz se erige en un altar en forma de escalera de nueve peldaños y cada noche la Cruz sube un peldaño acompañada por las oraciones y cánticos de sus devotos; hasta llegar a la cima en la novena noche.
Este simbólico ascenso de la Cruz nos recuerda la subida al Monte Calvario por Nuestro Señor Jesús, pero en la Cruz de Mayo se enfatiza el Misterio de la Resurrección y la Vida, por la cual nosotros también resurgimos de la oscuridad de la ignorancia a la luz de la sabiduría.
¡Regístrese para asistir aquí! Para más información contacte The Loisaida Center a info@loisaida.org o (646) 726-4715.
Let us join our voices for the Fiesta de Cruz in Loisaida, 2023!
The Fiestas de Cruz are a devotional celebration where the Holy Cross is glorified through traditional songs of the Catholic religion that date from the Middle Ages and have been jealously preserved by the simple devotion of the faithful Caribbean devotees of her.
In its traditional form, Las Fiestas de Cruz is celebrated for nine consecutive nights, in which the Cross is erected on an altar in the form of a nine-step ladder and each night the Cross goes up one step accompanied by the prayers and songs of its devotees. ; until reaching the top on the ninth night.
This symbolic ascent of the Cross reminds us of the ascent to Mount Calvary by Our Lord Jesus, but in the May Cross the Mystery of the Resurrection and Life is emphasized, by which we also rise from the darkness of ignorance to the light of wisdom.
Register to attend here! For more information, contact The Loisaida Center at info@loisaida.org or (646) 726-4715.