---
---
Loisaida, Inc.
invites you to join us back in our streets once more this upcoming
Sunday, May 29th ,2022
. along Avenue C in Manhattan's Lower Eastside in the heart of Alphabet City. Loisaida will shine again as a beacon of Puerto Rican and Caribbean Culture in NYC.
It's the 35th Anniversary of the iconic Loisaida Festival,
finally back on the streets after a 2-year mandatory Covid-19 hiatus, we're back! Better, bigger and greener than ever, celebrating along Avenue C – Loisaida Avenue in Lower Manhattan. We transition back from having to present our beloved Loisaida Festival in only digital, virtual form to now happily produce the first hybrid street festival for all to enjoy, both digitally and in person!
Our 2022 Festival theme, "Taking it back to our streets! – ¡Regresando a nuestras calles!"
, highlights the return of the festivities to Avenue C – renamed
Loisaida Ave.
in 1987 This sought-after, iconic community event/celebration will bring on Music, Food, Education, Arts and Culture, both local and international directly to our community. The event fosters unity and collaboration to bring about a brighter, greener, healthier, and happier future for Latinxs and POC in New York City. In keeping with our annual tradition, this year's Loisaida Festival will represent a culmination of the year-round programming that has taken place at the Loisaida Inc. Community Center, highlighting new and ongoing partnerships that serve individuals of all ages and backgrounds living in the Lower East Side and beyond. This year we'll highlight the resiliency and strength of the Lower East Side community in the face of disaster and disease.
Since 1987
the Loisaida Festival has been the largest community celebration festival event in Lower Manhattan, and grows annually in size, excitement, and impact. Produced by Loisaida Inc., founded in 1978 and one of the last remaining Puerto Rican community organizations in the neighborhood, the Loisaida Festival epitomizes over four decades of the struggle and success of the Puerto Rican/Nuyorican diaspora that settled in the Lower East Side as had thousands of immigrants and migrants over the 19
th
and 20
th
Century. This historic
place
– the Lower East Side— our '
Loisaida,'
as poet, Bimbo Rivas, coined it in the 70's, is still the 'Gateway' to America, a community that embraces diversity, welcomes difference, celebrates arts and culture, and preserves, in amber and performance, the voice of all that came through this LES portal to settle in this country.
In 2020 and 2021,
the Loisaida Festival happened on Sunday, May 23
rd
& Sunday, May 30
th
at 2:00 pm through
LoisaidaTV
– It featured a solid roster of musicians and performers, artistry, and overall family entertainment, comparable to only the best
Latinx Heritage Festivals
in the world. Check out the videos above!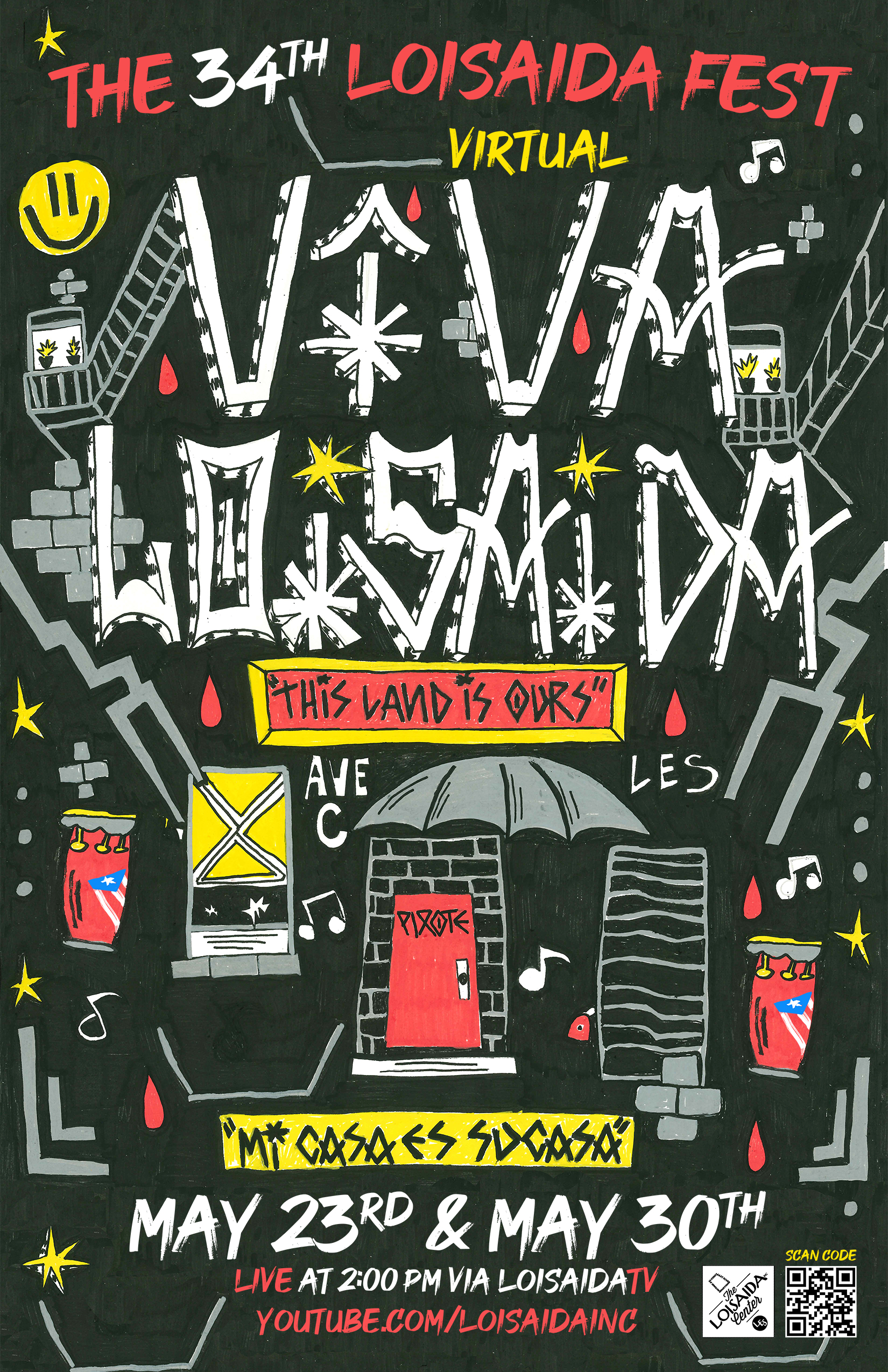 The 2021 musical lineup included: world-renowned Mexican singer & actor
Fernando Allende
; Afro-Caribbean/electronic music project
ÌFÉ
; Puerto Rican folk singer
Chabela Rodríguez
; Afro-Brazilian Samba Reggae All-Female band
Batalá New York
, and acclaimed local contemporary R&B Soul-Jazz artist
duendita
as well as pop-soul singer song-writer 
Linda Díaz
, the winner of
NPR's 2020 Tiny Desk Contest
. It also featured a short film by the Puerto Rican theater troupe
Y No Había Luz
, a
Cuchifritos
cooking demonstration by María Bido part of
La Cocina de Loisaida
, a monologue by
Loisaida Artistic Residency
recipient
Haus of Dust
,
and much more…
Last year's theme,
¡Viva Loisaida!
, celebrated the Lower East Side's roots, and the elements that characterize the neighborhood, and its residents, their resiliency, creativity, unity and growth. The official artwork for the 2021, 34th Annual Loisaida Festival was created by
João Salomão
, a local Brazilian artist also known as
PIXOTE
, whose distinctive style is heavily influenced by the Brazilian Pixação graffiti tradition. The commemorative poster for the 2021 festival was inspired by the LES punk and hip hop's NYC graffiti scene of the late eighties and nineties that helped form João's artistic practice. With the 2021 design, the artist also payed homage to Loisaida's documentary photographer
Marlis Momber
, well known locally as the co-producer of  
"Viva Loisaida";
 a 1982 film documenting life in the late 70's Loisaida neighborhood.
Since 1987
, the Loisaida Festival has honored its history by providing a platform to celebrate arts & culture through music, dance, arts, cuisine, and other cultural manifestations representative of the diverse ethnic groups and nationalities that make up the fabric of the neighborhood. It also serves as a vehicle to share information and spread awareness about local community and city-wide initiatives and resources as well as year-round community programming by Loisaida, Inc. Finally, we are inviting Community Partners to submit a short video message to include during the live programming, please visit this link for more information.
---
Loisaida Inc. programs are supported in part by public funds from the New York City Department of Youth and Community Development (DYCD) and the New York City Department of Cultural Affairs (DCLA) in partnership with the City Council, the New York State Council on the Arts with the support of Governor Andrew M. Cuomo and the New York State Legislature, City Councilwoman Carlina Rivera, NYS Assembly Member Harvey Epstein, Manhattan Borough President Gale Brewer, Hispanic Federation, Promesa Foundation, Stonewall Foundation, Ford Foundation, MOSAIC Foundation of the New York Community Trust and the Howard Gilman Foundation.