Project LAZO: Supported at its Ends—Hanging by its Weight
January 29, 2019 @ 6:00 pm

-

8:00 pm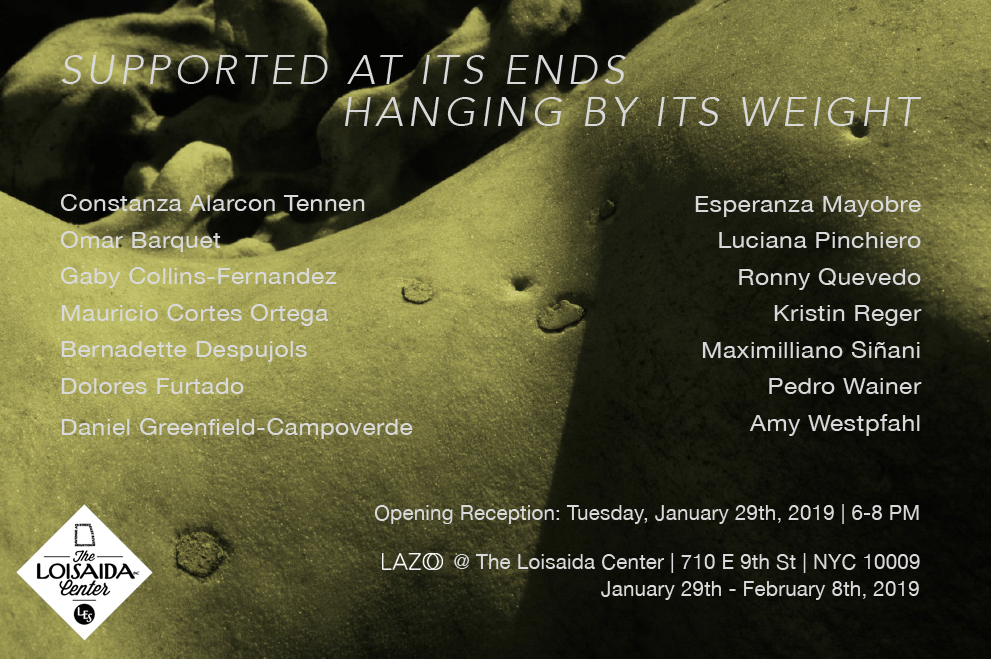 *Image by: Luciana Pinchiero | El Cuello con Manchas de El Eco (El Eco's Spotty Neck), 2017
LAZO at Loisaida present:
Supported at its Ends—Hanging by its Weight
Opening Reception: January 29th, 2019 | 6-8 PM
January 29th – February 8th, 2019
Participating Artists:
Ronny Quevedo
Amy Westpfahl
Dolores Furtado
Gaby Collins-Fernandez
Mauricio Cortes Ortega
Pedro Wainer
Daniel Greenfield-Campoverde
Luciana Pinchiero
Esperanza Mayobre
Bernadette Despujols
Omar Barquet
Kristin Reger
Maximilliano Siñani
Constanza Alarcon Tennen
Read more about the residency here.
---
About the artists:
LAZO is a collaborative project founded by Alva Mooses and Claudia Cortínez. We are artists of Latin American descent focusing on intersections of photography, sculpture and printmaking and began working together while doing our graduate studies together at Yale University. We have organized exhibitions, publications, and talks that support artists while furthering cross-cultural dialogue. Both born in the U.S. (Alva to parents from Mexico & the U.S. and Claudia to parents from Argentina & Chile) our practices have relied largely on being based in NYC while working internationally creating ties to distinct communities.
Alva Mooses is an artist based in New York. She received her BFA from The Cooper Union and her MFA from Yale University. She has exhibited her work at the 10th Havana Biennial, Instituto Cervantes in NY, Shirley Fiterman Art Center, Logan Center for the Arts, Eduardo Sívori Museum, among others. She has completed residencies such as the APL Program at The University of Chicago, Tou Trykk in Stavanger, Norway, the Davidoff Art Initiative in the Dominican Republic, and Casa Wabi in Oaxaca, Mexico. She has presented her work through artist talks at the Swiss Institute in NYC, Rogaland Kunstsenter in Norway, University of Chicago, among others. She is the recipient of a Yale University Schoelkopf Fellowship, the Rema Hort Mann Foundation Artist Community Engagement Grant, and UChicago Arts Grant, among others. Since 2004, she has organized community art initiatives and collaborations in Mexico, Cuba, the Dominican Republic, Haiti, El Salvador, and Argentina. Alva currently teaches Sculpture at The Cooper Union School of Art.
Claudia Cortínez is a visual artist currently living and working between Buenos Aires and NYC. She received her BFA from the Rhode Island School of Design and her MFA at Yale University. She is the recipient of the Alice Kimball English Traveling Fellowship from Yale University (2012), the Blair Dickinson Memorial Grant from Yale University (2013), the Rema Hort Mann Emerging Artist Grant in NYC (2013), among others. She has exhibited her work extensively in solo and group shows in the US, Latin America, and Europe, and has curated exhibitions at the Shirley Fiterman Art Center in NYC (2016) and the Eduardo Sívori Museum in Buenos Aires (2018), bringing together artists from both cities. She has participated in various residencies such as LMCC Swing Space (2014), La Ira de Dios (BsAs, 2016), Mass MoCA (2017), Real Time and Space (CA, 2018), and Tou Trykk (Norway, 2018), among others. She is currently an artist in residence at the NARS Foundation in Brooklyn, NY.
---
"Opinions like those expressed while in a panel, presentation, performance or through artwork are expressed by the author in their personal capacity and are the author's own. They do not necessarily reflect the views of Loisaida Inc., its affiliates or staff."
---