Project LAZO: CROSSROADS
March 19, 2019 @ 6:00 pm

-

March 30, 2019 @ 9:00 pm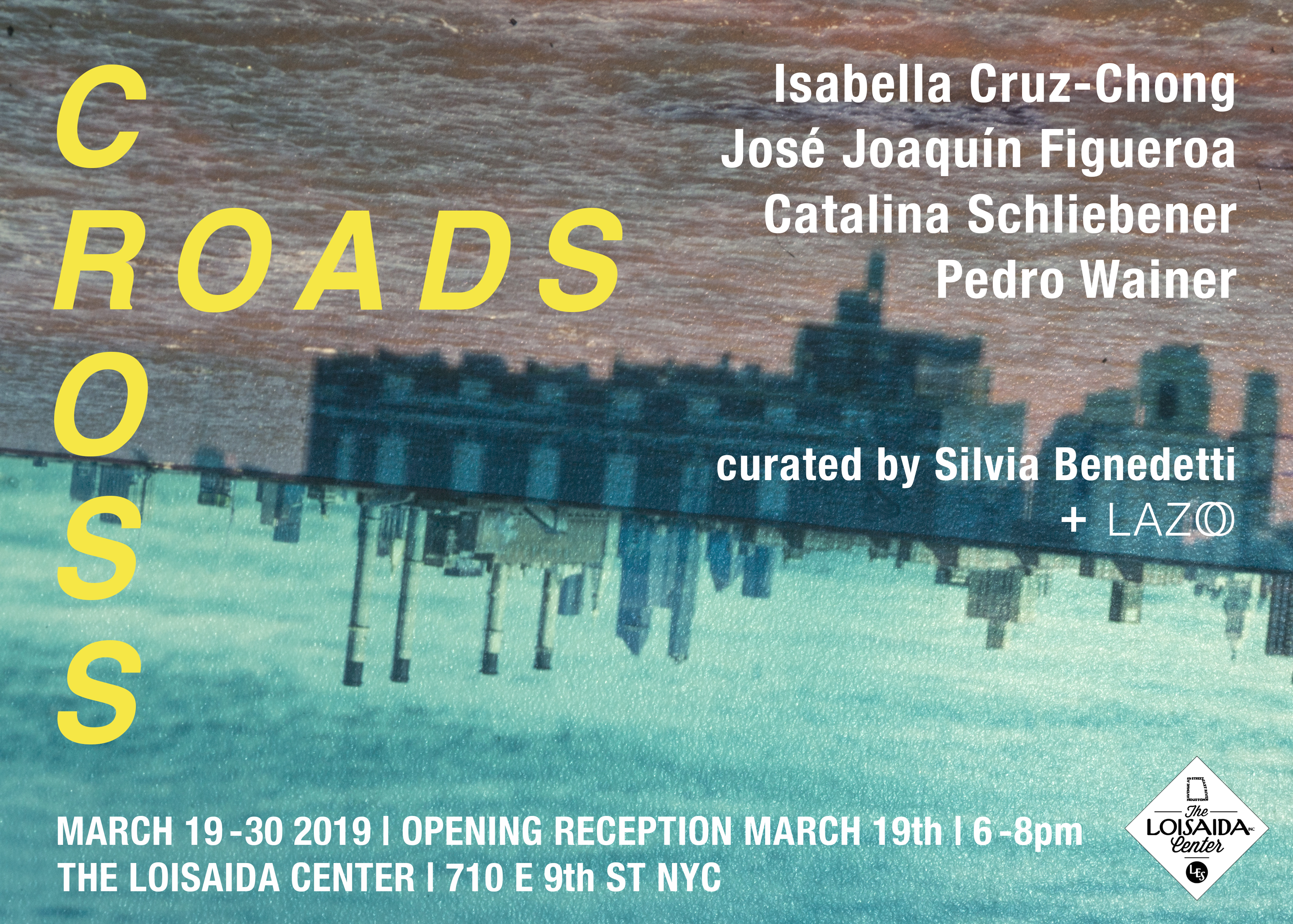 *Image by: Pedro Wainer | 'Cruces' , 2019.
LAZO at Loisaida present:
CROSSROADS
Opening Reception: Tuesday, March 19th, 2019 | 6-8 PM
Only through Saturday, March 30th
Curated by: Silvia Benedetti in collaboration with LAZO
Participating Artists:
Isabella Cruz-Chong
Jose Joaquín Figueroa
Catalina Schliebener
Pedro Wainer
---
Overview:
Standing in a crossroads makes us realize that the greatest block we can create for ourselves is the idea that there is a single right choice. This exhibition gathers a series of artworks –in a variety of mediums– in which the literal and figurative meaning of a crossroads is present. Daily life, childhood, gender, class, landscape, and identity are a few of the themes brought to bear by the works in the exhibition. These references, intersected through a range of material and narrative gestures, reveal how various perspectives can exist in a given moment.
This exhibition brings together four Latin American artists from different backgrounds for which New York functions as a point of intersection. The works on display build narratives along different lines: Isabella Cruz-Chong's works reference the US-Mexico border fence, filmed on the coast of the Pacific Ocean in Mexico where she grew up. She presents a performance/video of an invisible wall highlighting the struggle and irony that goes with it. Cruz-Chong also has on view instructions made for Mexican children who are learning how to behave when crossing the border.
José Joaquín Figueroa presents a record of everyday environments illustrating his ongoing pilgrimage. In his drawings he reflects on the fragility of fleeting moments, the complications of inter-layered identities, and the impossibility of a single perspective.
Catalina Schliebener presents a series of collages made with children's books; material that carries implicit narratives around gender, sexuality, and class. She researches childhood, considering it an important period in which the limits between reality and fiction are not yet defined.
Lastly, Pedro Wainer explores analogue film and photographic techniques by reconfiguring technologies in disuse. He presents composite footage and moving projections made from still images of the East River from both sides in Manhattan and Brooklyn–highlighting the river and its bridges as both a geographic and man-made border meant to be crossed.
This exhibition was organized in collaboration with Silvia Benedetti, a Venezuelan New York-based independent
curator and art writer, and is part of a series of events organized by LAZO at The Loisaida Center in NYC.
Read more about the LAZO project and residency here.
---
About the artists:
LAZO is a collaborative project founded by Alva Mooses and Claudia Cortínez. We are artists of Latin American descent focusing on intersections of photography, sculpture and printmaking and began working together while doing our graduate studies together at Yale University. We have organized exhibitions, publications, and talks that support artists while furthering cross-cultural dialogue. Both born in the U.S. (Alva to parents from Mexico & the U.S. and Claudia to parents from Argentina & Chile) our practices have relied largely on being based in NYC while working internationally creating ties to distinct communities.
Alva Mooses is an artist based in New York. She received her BFA from The Cooper Union and her MFA from Yale University. She has exhibited her work at the 10th Havana Biennial, Instituto Cervantes in NY, Shirley Fiterman Art Center, Logan Center for the Arts, Eduardo Sívori Museum, among others. She has completed residencies such as the APL Program at The University of Chicago, Tou Trykk in Stavanger, Norway, the Davidoff Art Initiative in the Dominican Republic, and Casa Wabi in Oaxaca, Mexico. She has presented her work through artist talks at the Swiss Institute in NYC, Rogaland Kunstsenter in Norway, University of Chicago, among others. She is the recipient of a Yale University Schoelkopf Fellowship, the Rema Hort Mann Foundation Artist Community Engagement Grant, and UChicago Arts Grant, among others. Since 2004, she has organized community art initiatives and collaborations in Mexico, Cuba, the Dominican Republic, Haiti, El Salvador, and Argentina. Alva currently teaches Sculpture at The Cooper Union School of Art.
Claudia Cortínez is a visual artist currently living and working between Buenos Aires and NYC. She received her BFA from the Rhode Island School of Design and her MFA at Yale University. She is the recipient of the Alice Kimball English Traveling Fellowship from Yale University (2012), the Blair Dickinson Memorial Grant from Yale University (2013), the Rema Hort Mann Emerging Artist Grant in NYC (2013), among others. She has exhibited her work extensively in solo and group shows in the US, Latin America, and Europe, and has curated exhibitions at the Shirley Fiterman Art Center in NYC (2016) and the Eduardo Sívori Museum in Buenos Aires (2018), bringing together artists from both cities. She has participated in various residencies such as LMCC Swing Space (2014), La Ira de Dios (BsAs, 2016), Mass MoCA (2017), Real Time and Space (CA, 2018), and Tou Trykk (Norway, 2018), among others. She is currently an artist in residence at the NARS Foundation in Brooklyn, NY.
---
"Opinions like those expressed while in a panel, presentation, performance or through artwork are expressed by the author in their personal capacity and are the author's own. They do not necessarily reflect the views of Loisaida Inc., its affiliates or staff."
---